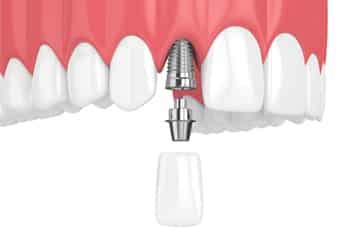 Dental Implants
A dental implant can be the ideal option for patients looking to replace one or more teeth. Implants are one of the latest advancements in dental medicine providing some patients with a superior option to traditional crowns and bridges. An implant is a replacement tooth root providing a strong foundation for fixed (permanent) or removable teeth made to match your natural teeth.
After developing your tailored treatment plan, your Patriots Park Dentist will place the titanium implant within the original tooth's bone socket. Over time as the jawbone heals, it grows around the titanium post securing it to the bone. Generally, the healing process will take from six to 12 weeks.
Once the implant has bonded to the bone, a small connector post called an abutment is attached to the implant post to securely hold the new tooth. A replacement tooth known as a crown will then be attached to the abutment. Your dentist will customize your crown to match the look and shape of the surrounding natural teeth.
To discuss the option of dental implants, please call us or request an appointment online.